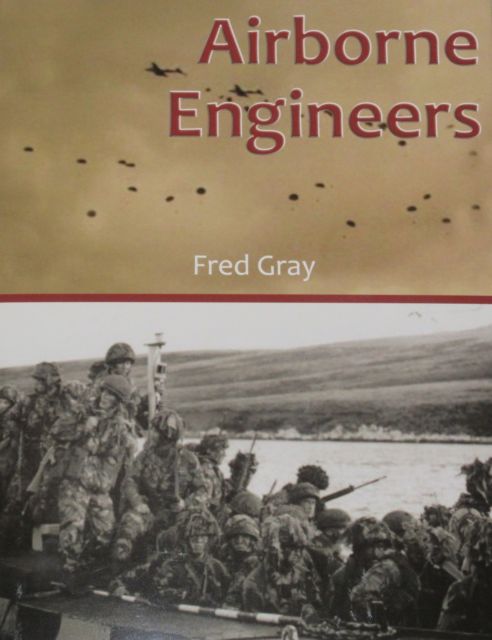 Fred Gray
From the preface: I was asked by Brigadier John Hooper to write a history of 9 Independent Airborne/Parachute quadron RE, from 1948 when it became an independent airborne squadron within the newly formed 16 Independent Parachute Brigade Group, to 1977 when it lost its independence and came under the command of 36 Engineer Regiment, based at Maidstone........
Order Now!
About the Book
……….I immediately made a list of the Officers who had commanded the Squadron with the intention of asking for their recollections of the period of their tenure. Unfortunately, of the 19, thirteen had since died, leaving only six, one of whom was very ill and unable to offer any meaningful contribution.
Lieutenant Colonel Gerry Taggart (OC 1976-1978) suggested I should include a link to the World War II engineer parachute squadrons and glider-borne companies as they were the forerunners of the airborne engineers as we know them today. For this reason, Chapter 1 is a very shortened history of each squadron/company. To write a full history of each unit would be a mammoth task and take many years to complete. Mr Eric Blenkinsop also suggested a tribute to the officer responsible for the organisation of airborne forces in 1941, Major (later Lt Col) John Rock, a Royal Engineer officer, who tragically died in a glider accident in 1942 and received very little recognition of his work.
It has been my intention to make this history as factual as possible, supported by photographs. Without any official documents recording the activities of the Squadron I have had to rely very much on individual accounts from former members, which have been published in the Pegasus and Airborne Engineers Journals. In addition, I acquired a number of personal memories, some written by officers and others by squadron other ranks. One hand- written account of deployments (author unknown) covered a period of 40 years of squadron activities, which has been very useful in determining the chronological order of 'hot' deployments as well as the more peaceful type.
It was also suggested that the parameters of the history be extended beyond 1977 to include Operation Corporate, the re-taking of the Falkland Islands by British Forces in June 1982 after the invasion by Argentine Forces in April of the same year. 9 Parachute Squadron RE, under the command of Major Chris Davies, played a prominent role in the successful outcome of one of the major combined operations since the World War II. Therefore a chapter has been added, written by Major (later Colonel) Chris Davies MBE, including the full ORBAT of the Squadron, the Roll of Honour and decorations awarded. Chapters include:
The Airborne Engineers: 1941 – 1945
A New Beginning: 1948
Aldershot 1948 – 1951
Cyprus and the Canal Zone: 1951 – 1953
Canal Zone, Aldershot: 1955 – 1956
Aldershot, Cyprus and Suez: 1955 – 1957
Aldershot, Cyprus and Jordan: 1957 – 1959
Norway, Denmark and Singapore: 1959 – 1960
Kuwait, Bahrain and Greece: 1960 – 1962
Bahrain,Cyprus and Borneo: 1962 – 1965
Aden, Borneo, Bahrain and Kenya: 1965 – 67
Northern Ireland, Kenya: 1967 – 1969
Northern Ireland, Germany and Guernsey: 1969 – 1970
Northern Ireland, Kenya and Scotland: 1970 – 1972
Canada, Northern Ireland: 1972 – 1974
Northern Ireland, Hong Kong, Cyprus, and Bavaria: 1974 – 1976
Northern Ireland, Canada, The fireman's strike: 1975 – 1978
Northern Ireland, Vanuatu, and Denmark: 1978 – 1979
Northern Ireland: 1979 – 1982
Falklands Islands, Scotland and Belize: 1982 – 1984
Never volunteer, Elf and Safety, A unique presentation.
Various appendices, including Officers Commanding 9 Para Sqn, Squadron Sergeant Majors, Personnel commissioned from the ranks, and 9 Squadron Roll.
Disclosure of Material Connection: Some of the links in the page above are "affiliate links." This means if you click on the link and purchase the item, I will receive an affiliate commission. I am disclosing this in accordance with the Federal Trade Commission's
16 CFR, Part 255
: "Guides Concerning the Use of Endorsements and Testimonials in Advertising."