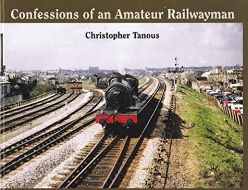 This book is available from Christopher, at the specially discounted price of £18, to members of the
ABN.
Payment by Internet Banking would be ideal; anyone interested should ring him to place an order
and be given bank details. Tel no:01460 258945
About the Book
Reviewed by Eur. Ing. John R. Wesley, BSc CEng MICE MAPM FPWI AIRO RD VR, formerly an Inspector in Her Majesty's Railway Inspectorate.
Following his series of fascinating articles in British Railway Illustrated magazine, and his first book 'Festiniog Fireman 1960s', also published by Shrewdale Publishing in the same format, Christopher Tanous has now written a 'prequel' describing in absorbing and enthralling detail the unofficial start of his career as an amateur railwayman when he rode on and drove hundreds of steam and early diesel engines and worked many signal boxes, mainly in the London area. His exploits went on throughout the last decade of the steam era on British Railways, starting when he was a schoolboy and then a student. They stemmed from a holiday footplate ride on a steam loco in 1958 at the age of 15 and developed into the passion which grips so many of us. I heartily recommend both volumes as essential to your library collections.
His descriptions of his first meetings with railwaymen remind me of my own at about the same age; but my own handful of signalbox and footplate visits pales into insignificance by comparison with his, even during my own subsequent career as a professional railwayman. But our youthful interest in the day-to-day operation of the railway was always more than amply rewarded by the complete professionalism of the men we met and the pride that they had in their jobs.
This book is not a trainspotter's endless list of engine numbers; it is in fact in all respects a delightful record of days gone by; it takes you onto the footplate and into the signalbox while giving a wonderful insight into the social impact of railways and their part in our lives. The author describes in intriguing detail many technical aspects of the steam railway and its workings which may have eluded the amateur, in a delightful writing style which is never tedious and retains throughout the sense of wonder and humour which could be found when conversing with individual railwaymen whom one would never otherwise have met.
We all would love to have had the author's courage to ask more often to be allowed to work a signalbox, or to fire and even drive a steam loco; he did all these things many times on the 'real' railway, before beginning nearly fifty years as an engineman on what we now call 'heritage' steam railways. On the few occasions that I summoned up the courage to ask to 'have a go' in appropriate circumstances, I was always welcomed. Unfortunately, opportunities had become very scarce by then thanks to the gathering pace of modernisation; the author was a very few years ahead of me and was just in time to get to know the traditional railway in its final years.
This book is a captivating 'must-read' for anyone interested in any aspect of trains. Never tedious nor repetitive, it transports the reader into the life of our country's railways, encouraged by a breed of dedicated professional railwaymen which so rarely receives the recognition it deserves. The book is beautifully and bountifully illustrated with many photos – some in colour include stills from the author's own 8mm movie films. As he freely admits, the latter are not of the highest technical quality, but they present a vital record of scenes long gone – and all are a delight to behold.
Disclosure of Material Connection: Some of the links in the page above are "affiliate links." This means if you click on the link and purchase the item, I will receive an affiliate commission. I am disclosing this in accordance with the Federal Trade Commission's
16 CFR, Part 255
: "Guides Concerning the Use of Endorsements and Testimonials in Advertising."