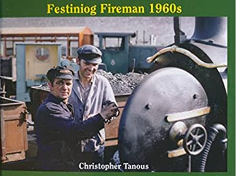 This book is available from Christopher, at the specially discounted price of £15, to members of the
ABN.
Payment by Internet Banking would be ideal; anyone interested should ring him to place an order
and be given bank details. Tel no:01460 258945
About the Book
Amazon Review
If you have ever traveled on, or in any other way been touched by the British obsession with inefficient but charismatic steam trains, this work will go a long way to explaining why people willingly give up their time, voluntarily to do filthy dirty railway jobs which in the 1950s were so hard to fill that the only applicants were just arrived on the Empire Windrush and had found Mother England a tad less hospitable than they had hoped.
The author was one of a happy band of pioneering amateur railwaymen in the early days of railway preservation and he carefully recorded both the kit and culture of those times. It is neither solemn nor pompous – vices that affect so many railway books – more a celebration of a "Vice Anglais" from the inside. This is probably not a book for "railwayacs" who enjoy wallowing in historic or technical minutiae but it speaks, lucidly and with insight, to the time of interregnum when steam had gone from the big railway and not yet established itself as a slick business sector of the tourist trade.
If you have ever wondered why and how, 60 years after Beeching, Britain retains almost 1000 steam locomotives, and keeps them so close to our national psyche, you will find some answers here. It is the real life Titfield Thunderbolt.
Disclosure of Material Connection: Some of the links in the page above are "affiliate links." This means if you click on the link and purchase the item, I will receive an affiliate commission. I am disclosing this in accordance with the Federal Trade Commission's
16 CFR, Part 255
: "Guides Concerning the Use of Endorsements and Testimonials in Advertising."