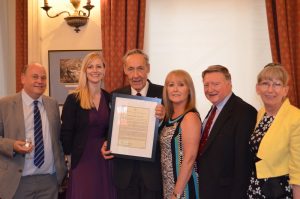 This year's party was a great success, with well over 100 attending, some from as far afield as Australia, Singapore and the Gulf. Lt Gen Sir John Lorimer, Col Comdt of The Parachute Regt, precariously balanced on the tall fender around the fireplace in the magnificent Field Marshals' room, gave a short update on what Airborne Forces are up to.
We were honoured to receive a framed Col Comdt's Commendation for the work we have collectively carried out over the last 10 years. HQ ABN (4 of us) will rotate this award around our offices/studies. We all greatly enjoy what we do and hope it makes a useful contribution to the Airborne Family.
Once all had been armed with some special 'bubbly' General John proposed a toast to 'The ABN' and also to 'Airborne Forces'. The event seemed to be greatly enjoyed by all.