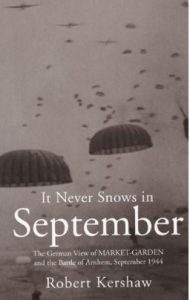 On the afternoon of 17 September 1944, Lieutenant Joseph Enthammer, a Wehrmacht artillery officer based in Arnhem, gazed up to the clear skies, hardly believing what he saw. White 'snowflakes' appeared to hang in the air. 'That cannot be' he thought. 'It never snows in September! They must be parachutists!' They were.
He was witnessing the first wave of the British parachute assault on Arnhem. The war had reached the Reich. The blow moreover had come as a total surprise. The Allies had expected operation Market-Garden to bring the collapse of the Wehrmacht in the West and shorten World War 2. But the Germans resolved to fight.
This ground-breaking military study uniquely chronicles this period of the war through the eyes of the ordinary German soldier and analyses the reasons for the eventual outcome. A major work of military history, this new paperback edition is certain to stimulate renewed debate about one of the most controversial operations of World War 2.