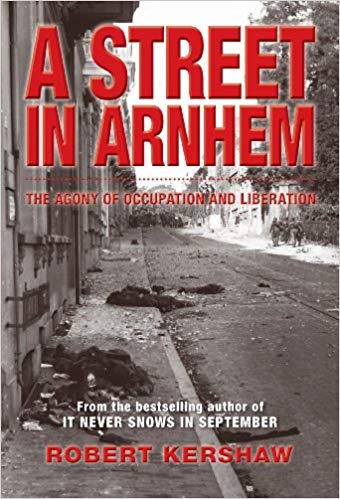 Robert J. Kershaw
This is well written account of the battles along the Utrechtseweg, including some great descriptive passages on urban anti-tank operations by PIAT wielding paratroops.
Order Now!
About the Book
The Germans had a surprising amount of armor in the Arnhem area, including quite a few StuG III's, and several French Char B flamethrower tanks. By the end of the nine day ordeal, even Tiger II's were appearing on the battlefield as well. As well as the great text written from a military perspective, there are a great many well written, very descriptive passages from the civilian perspective. These passages give the book a welcome "extra" viewpoint. The use of first person accounts used throughout this book make the text very "readable", giving the reader a good sense of what it was like for those involved.–Armor Modeling and Preservation Society " Can you possibly imagine what it would be like if your quiet neighborhood, where your family has lived for generations, suddenly became a battlefield? "A Street in Arnhem," with its alternating revelations of terror and valor, tells that story and supplies some of the answers."–Toy Solder & Model Figure "I recommend this book to those readers interested in WWII and in Operation Market Garden because of the insights Kershaw provides. The author promises examining one street will offer new insights- and he delivers. I also recommend the book to readers interested in modern combat because of the lessons the author reveals about urban warfare."–Military Review
Disclosure of Material Connection: Some of the links in the page above are "affiliate links." This means if you click on the link and purchase the item, I will receive an affiliate commission. I am disclosing this in accordance with the Federal Trade Commission's
16 CFR, Part 255
: "Guides Concerning the Use of Endorsements and Testimonials in Advertising."