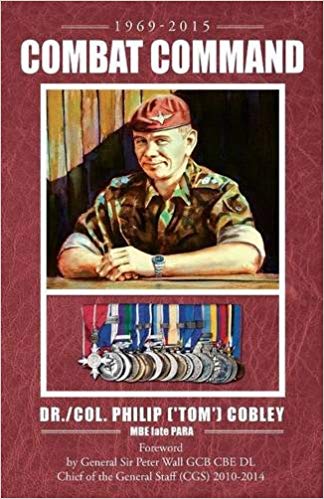 Dr/Col. Philip ('Tom') Cobley MBE
This book is a detailed study into Countering the Physiological and Psychological Effects of Combat on Infantry Soldiers and as such it has been my life's-work.
First, during my 41 years (1969-2010) as an active duty infantry soldier and then during this last six years as I have endeavoured to unlock the secrets of how to better prepare our next generation of infantry soldiers for their own first shock of combat. The fact is that soldiers are our nation's most precious resource and this author would argue that our infantry soldiers are the most precious of all.
Order Now!
About the Book
COMBAT COMMAND: BOOK REVIEW
The extent and the depth of the problems of Post Traumatic Stress Disorder (PTSD) facing our veteran community are becoming increasingly apparent. The problem has always been with us but the length and intensity of the recent conflicts in Afghanistan and Iraq have highlighted the number of casualties and the life changing nature of their injuries.
There is an urgent need for the military community to understand the underlying causes of PTSD and how they can be addressed, both pre-emptively in training, and subsequently in treatment. Colonel Tom Cobley draws on his own extensive personal experience, combined with thorough and extensive research to add to our understanding of the underlying causes of PTSD. Whilst the interview sample is relatively small the dialogue has been thorough and is supported by extensive, detailed, and revealing research. As a result of his analysis he draws some thought provoking conclusions and recommendations.
I would recommend Combat Command to anyone seeking to understand PTSD, they will find it a rich seam of illuminating information. His Excellency General Sir John McColl KCB CBE DSO Deputy Supreme Allied Commander Europe (DSACEUR) 2007-2011 Lieutenant Governor of Jersey 2011-Present
Disclosure of Material Connection: Some of the links in the page above are "affiliate links." This means if you click on the link and purchase the item, I will receive an affiliate commission. I am disclosing this in accordance with the Federal Trade Commission's
16 CFR, Part 255
: "Guides Concerning the Use of Endorsements and Testimonials in Advertising."