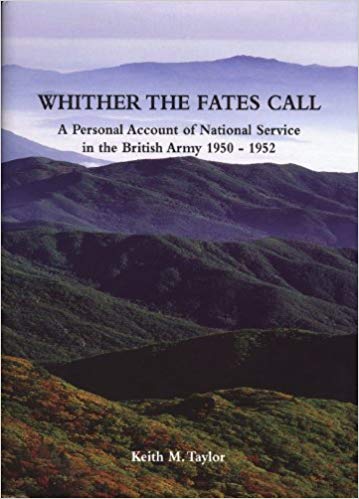 Keith Taylor
This is a true adventure story which in today s parlance might be described as a 2 year gap year. From the day he entered the Guards Depot at Caterham, Surrey, to the day he disembarked from the troopship Empire Pride in Liverpool from the Far East, the author wrote 208 letters home. These letters, meticulously kept in chronological order, together with numerous photographs, provide a unique record of one person s National Service experience in The British Army. This beautifully produced hardback of 400 pages is a fascinating story.
Order Now!
About the Book
Ranging from boredom to under-fire action in the Korean War as a junior infantry Officer, the letters include vivid descriptions of arduous training at battlecamps as far from each other as Dartmoor in Devon to Hara Mura in Japan, smuggler hunting on the Hong Kong/Chinese border, rowdy Officers Mess nights, leave in Ceylon (Sri Landa) via the Nicobar Islands in the Indian Ocean, an aircraft crash-landing in Manila and learning to manage men under stressful conditions. The author recalls his experiences with a discerning eye, a sense of humour and a great respect for British National Servicemen to whom, along with his family, this book is dedicated. The Forewords to the book are by General Sir Geoffrey Howlett, KBE, MC, Ambassador to the United States, Mr. Lee, Taw Sik and David Smurthwaite, Assistant Director, National Army Museum, London.
Disclosure of Material Connection: Some of the links in the page above are "affiliate links." This means if you click on the link and purchase the item, I will receive an affiliate commission. I am disclosing this in accordance with the Federal Trade Commission's
16 CFR, Part 255
: "Guides Concerning the Use of Endorsements and Testimonials in Advertising."